Emilie
Mixer Shower
Just for you...
Combining sophisticated styling with exceptional quality, the Emilie™ collection brings both personalisation and luxury to your bathroom experience.
With an array of beautiful styles and colours, create a unique and sensory environment.
Emilie Push Button Concealed Mixer
Uniquely designed, the Elisa™ Emilie™ mixer shower collection brings together a unique contemporary design with the performance to match any bathroom environment.
Working with the durable Aquahub™, our Emilie™ shower boasts simple control with our thermostatic safety technology, creating the perfect showering experience for the whole family. Available in a choice of alluring chrome, an elegant brushed brass or in a coveted matt black finish, it's sure to be loved at first sight.
Along with the Aquahub™, the Emilie™ shower range has been designed to stand the test of time. With attention to detail and solid brass body valve design, this serviceable shower has been engineered for longevity.
Push button shower controls, set on a stylish metal facia in a contemporary matt black, chrome or brushed brass finish, divert the flow for a dual outlet shower, functioning from either a handset shower or bathfill. A separate on/off control dial also controls the smooth glide thermostatic temperature adjustment.
Convenient for new or refurbishment projects, the control and wallplate assembly simply fits onto the in-situ Aquahub box and can be matched with a range of handsets, fixed heads, adjustable rails and wall mounted holders to create the sought-after subtle and minimalist look for modern bathrooms and shower areas. Designed as a flexible, modular system, based on the Aquahub's universal connections, the front-accessed controls and wall facia can be easily renewed with other models and fittings available from the Emilie ranges.
Avaliable in contemporary matt black, chrome or brushed brass finish.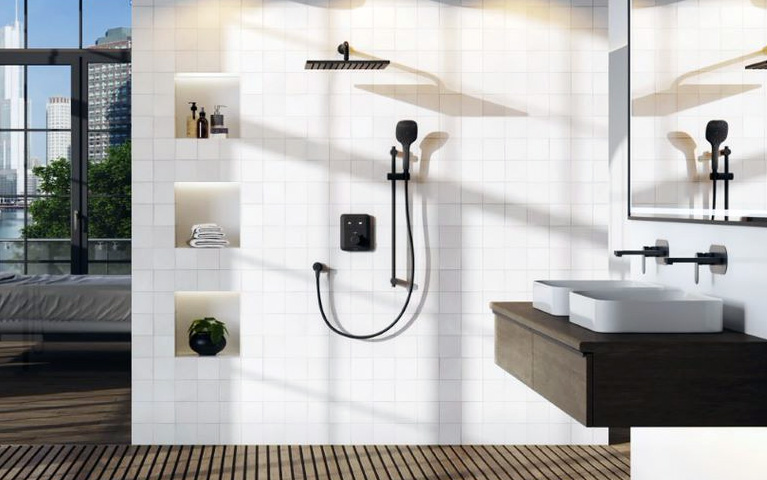 Uses Aqualisa Aquahub
A universal mixer valve, recessed behind the wall, that can be fully customised with different dial or push button controls and countless shower kit combinations. More versatile than fitting a traditional concealed shower valve, the ready-to-install Aquahub is a permanent plumbed-in valve that works with a range of modular controls and fittings to suit all bathrooms, homes and tastes.
The flexibility to change the shower facia without needing to replace tilework makes updates and refurbishment easier than ever. Reversible pipework connections with a manifold differentiated by unique integrated isolation valves, this compact unit requires only a minimum 60mm installation depth and is compatible with single, dual and triple outlet systems.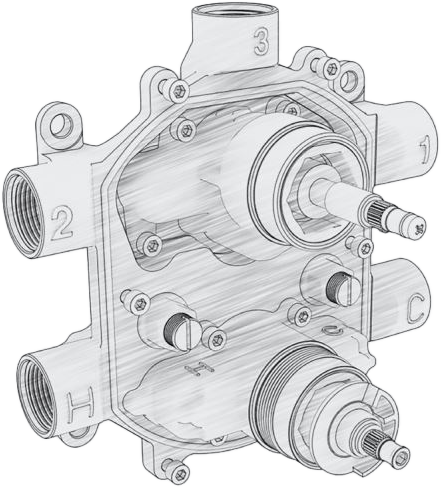 Emilie Features:
Thermostatically controlled for safety assurance
Can run multiple outlets at once
Push button shower is available in dual and triple outlet
Colour choices include Chrome, brushed brass and matt black
Options to mix and match kits as the shower and kit are all sold modularly for maximum choice and flexibility
Can be installed as 1st and 2nd fix to cohere with renovation timelines
Includes flow control and temperature override button
Once the Aquahub is installed there is no invasive work needed to change the design/update the look of the faceplate
Full metal faceplate
Emilie Documentation/Downloads:
Emilie Installation, User and Care Guide
This booklet provides information for Stage 1, please refer to the separate
installation guide for other stages 2 and 3 and the individual guides for
outlet accessories.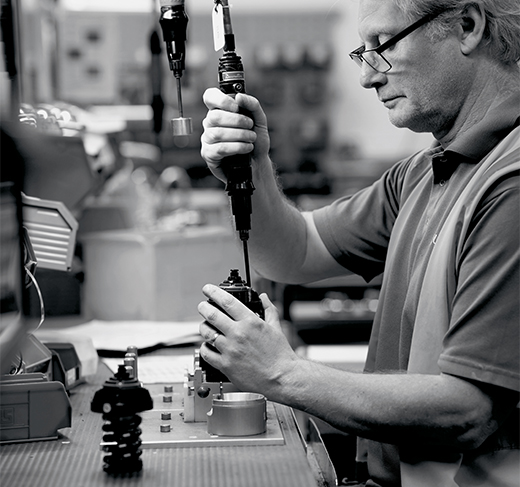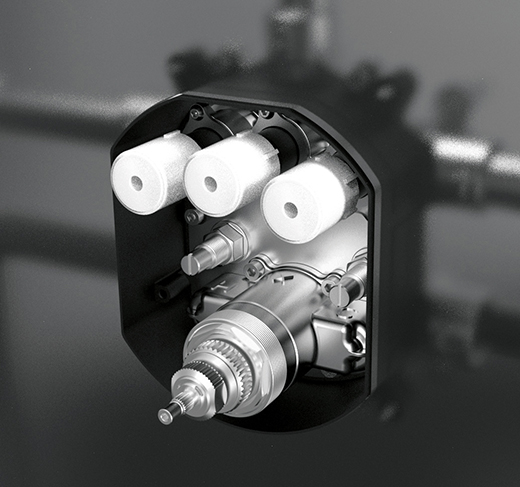 BEAUTIFULLY
ENGINEERED,

DESIGNED FOR LIFE.
Engineered from the highest quality components, the Aquahub™ valve has been crafted from solid brass for extended product life. Featuring thermostatic control for optimum safety, it is also equipped with isolation valves for added peace of mind.
FORMVOLLENDETE AUSFÜHRUNG FÜR LEBENSLANGEN GENUSS
Das Aquahub™-Ventil besteht aus hochwertigsten Komponenten und wurde aus massivem Messing gefertigt, um die Lebensdauer des Produkts zu verlängern. Die thermostatische Steuerung sorgt für optimale Sicherheit, während die Absperrventile zusätzlichen Schutz bieten.
UNE CONCEPTION MAGNIFIQUE, POUR TOUTE LA VIE
Conçue à partir de composants de la plus haute qualité, la vanne Aquahub™ a été fabriquée en laiton massif pour prolonger la durée de vie du produit. Dotée d'une régulation thermostatique pour une sécurité optimale, elle est également équipée de vannes d'isolation pour une tranquillité d'esprit totale.